It's been too long since I got a newsletter out. My excuses are the holidays and moving into a new home (in Fair Oaks--hooray!). Since it's been over 3 weeks since the last newsletter, we have lots and lots of beautiful new fabrics and exciting classes to tell you about, so let's get to it.
Announcements and Special Events
Make a Quilt and Make History!
Calling all quilters!

California State Parks

will commemorate its 150th anniversary throughout 2014 with an online show of quilts created by quilters throughout the state to honor our state parks.

You can participate by making a California state-park-related quilt for their online quilt exhibit, which will be featured on their website.

For more information, click here.


http://www.150.parks.ca.gov/?page_id=27534





Don't delay, the deadline for the initial edition of the online exhibit is March 20, 2014.



| | | |
| --- | --- | --- |
| | We have an Eleanor Burns trunk show in our classroom. There are seven of her amazing quilts on display, and we have many of her books, patterns, and tools to purchase. It's definitely worth coming in to appreciate her beautiful quilts. The show end on February 28. | |

There are so many wonderful new fabrics to see. In addition to the ones pictured below, we have added more bolts to our white-on-whites, batiks, blenders, and novelties. We also have some new charm packs, jelly rolls, and layer cakes.


Bohemia
is a charming folk-art collection. We have a quilt made from these fabrics, and we madde up kits, too.

Valentine's Day is coming up soon, and we have a fun collection from Moda--Surrounded by Love. We have lots of heart prints, too.

And to welcome Spring, we have beautiful floral prints and new fabrics from the Kaffe Fassett Collective.
And if you've been looking for those perfect fabrics to make table runners, napkins, aprons, and more, for that perfect Cinco de Mayo party, or any party, look no further. We have the entire Cantina line from Timeless Treasures.


Betty Dear by Robert Kaufman would also be great for home dec items.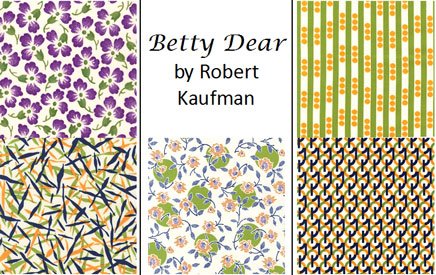 And, of course, we have some new kids prints, too.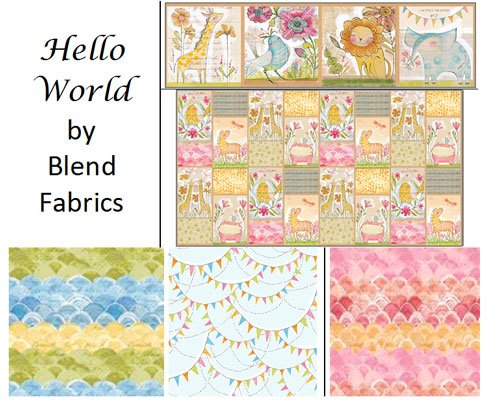 Classes and Groups

Wool Applique, Sat, Jan 11, -OR- Tue, Jan 14, 10:00 a.m. - 1:00 p.m.
Blankets for Preemies, Fri, Jan 17, 11:00 a.m. - 3:00 p.m.
Handwork Sit & Sew, Mon, Jan 20, 10:00 a.m. - 4:30 p.m.
American Girl Doll Sit & Sew, Wed, Jan 22, 1:00 - 4:00 p.m.
Crazy Quilt Group, Mon, Feb 3, 10:30 a.m. - 1:30 p.m.
Sit & Sew, Thu, Feb 13, 1:00 - 5:00 p.m.
We have two new Rami Kim classes, and we are happy to announce that Judy will be teaching Sue Spargo's Imperial Blooms quilt again. So many of you saw last year's class working on this amazing quilt and wanted to join in that Judy agreed to teach it again. Also, Judy will teach a Beginning Needle Turn Applique class. See below for the details on these classes.

Floral Fusible Applique

, Sue Rohrke, Fri, January 24 and 31, 2014, 10:00 a.m. - 3:30 p.m., $55, supply list. In this class, you will learn a really fun technique that will enable you to design your own art quilts from digital photos that you have taken yourself. It's liberating! This is a simple project for beginners and above. You can choose one of the three designs pictured here to make in class.
The 5th Dimension - 3-dimensional Textured Tote Bag,

Rami Kim, Sat, Jan 25, 10:00 a.m. - 4:00 p.m., $55, supply list. Go beyond traditional 3-D. In this technique workshop you will learn 5 of the exotic and unusual methods that are the trademark of Rami's award-winning works, including hexagon and biscuit chopkey, mirror-imaged continuously folded prairie points, harlequin tucks, North American hand smocking, and lined prairie points. This workshop could be the answer to those who wish to know about adding 3-dimensional textures and a lot more extra touches to art-to-wear and quilts.



Vest w/Hexagon Chopkey & Peyote Beaded Leave

s, Rami Kim, Sat, Feb 1, 10:00 a.m. - 4:00 p.m., $55, supply list. Rami will teach you all the techniques she used to create this elegant vest from her original pattern. Hexagon chopkey (folding), interesting strip piecing, decorative stitches with variegated threads, lined prairie points, exquisite beaded leaves by peyote stitches, and the construction method of the vest will be covered in this fun workshop.

Circle Pizzazz,

Judy Sisneros, Sat, Feb 22, 2014, 10:00 a.m. - 4:00 p.m., $60, supply list. Judy's inspiration for this class began with the 'snake trail' block, which she has taught for years as "Winding Paths" - a great design. She wondered what would happen if she made the block and then re-cut it, made a little change, and then remade the block. It was wonderful! Plus, with the 'planned-overs' you have pieces to make a second quilt. Come spend a fun, instructional day with Judy and make your own unique pizzazz quilt. Templates are available for purchase. Intermediate level.



Judy made the quilt pictured on the right using Benartex's Moon Shadows line, and it's on display in our shop, and we have this fabric available!
Cathedral Window Jacket

, Rami Kim, Sat, Mar 8, 10:00 a.m. - 4:00 p.m., $55, supply list. This jacket is featured on the cover of Rami's book, Quilted Elegance (AQS). This cathedral window block originated from Korean wrapping cloth called Bojahgy. Instead of using hand stitches that ancient Korean women used, you will use your sewing machine to create an elegant jacket made with cathedral window blocks only. Rami will teach you how to calculate a block size to fit your measurements-no pattern is needed.



Sue Spargo Felted Wool Pillow

, Judy Cummings, 2nd Tue -OR- 2nd Sat, Mar-May, 2014, $35, supply list. Make this 18" square top for a pillow, wall hanging, or tote. You'll applique the pieces and then add embellishments to make the project uniquely yours!(Note: March meetings will be Sat, March 1, and Tue, March 4.)



Imperial Blooms (Sue Spargo),

Judy Cummings, 2nd Tues -OR- 2nd Sat of the month, 1:30-4:30 p.m., starting in April, $15/class. (You must pay in advance for the first four classes, a total of $60.) This quilt features nine blocks of beautiful embellished layered flowers of wool and other fabrics. Judy will teach new stitches and embellishment techniques each month.
| | |
| --- | --- |
| Beginning Needle-turn Applique, Judy Cummings, 1st Tues of the month, 9:00 a.m. - noon, starting in April, $15/class. (You must pay in advance for the first four classes, a total of $60.) Learn to needle-turn applique and make this charming wall hanging, The Garden at My House, from The Best-Ever Applique Sampler by Becky Goldsmith and Linda Jenkins. Judy will teach you curves, points, circles, and more. Another fun handwork class! | |

Please see our website for descriptions/pictures of the above classes
and all of our other classes and groups: http://www.thistledewquiltshoppe.com/classes.htm



Come in the week before or after your birthday
to get 20% off one purchase!
Also, if you buy the end of the bolt, you get 10% off that fabric! (Every day!)



Thank you for being one of our wonderful customers!


Phyllis, Kristanna, Natalie, Pat, Patty, Sheila, Susan, Toni, Vicki,
Vicki, Donna, Janet, Jennifer, and Judy

Thistle Dew Quilt Shoppe
10127 Fair Oaks Blvd, Fair Oaks, CA 95628
www.thistledewquiltshoppe.com 916-967-5479