July 25, 2013----------Vol. 5, No. 18

Announcements & Special Events

Oh my gosh, it's been almost a month since I sent out a newsletter!

What with summer travel plans, family commitments, work, and summer-heat-induced-laziness, time has flown by. We've still been checking in lots of new fabrics, though (see below), and, as always, have enjoyed seeing you in the shop. Even if you just come in to browse and/or escape the heat, we always like to see you!

| | |
| --- | --- |
| | A big THANK YOU to everyone who came to our Anniversary Sale at the end of June. It was great fun! In fact, it was so much fun, I've decided to have a Halloween sale this Friday and Saturday. All of our spooky, whimsical, and funny Halloween fabrics will be 20% off this Friday and Saturday, July 26 and 27. Come in, stock up, and start making Halloween wall hangings, bags, pillowcases, lap quilts, purses, placemats, and everything else! (This discount cannot be combined with other discounts and is limited to stock on hand.) |
The

Northern State River Run 10th Anniversary Party on the River is Wednesday, September 11, through Saturday, September 14. T

here are 13 shops participating and every shop will have a fun party theme and will be open from 9:00am to 7:00pm each day. There are lots of fabulous prizes, including a grand prize of a Bernina 350 sewing machine and thirteen first prizes of a $100 gift certificate from one of the participating shops! And....there will be a 15% discount on regularly priced fabric, notions, books, and patterns at each store! So mark your calendar, get a group of your quilting friends together, and start making plans!
New Fabrics and More

We've added some beautiful new buttons to our button collection. There are large ones that would be gorgeous on purses and sweaters, and smaller ones that would be great for garments or embellishments on other projects.

And now for the fabrics! And these are just some of the new ones. We have lots of gorgeous Christmas fabrics, too.

We have two new Asian lines, Snow Festival from Hoffman Fabrics and Kyoto Gardens from Andover. There are also some new blenders from Hoffman to coordinate with Snow Festival.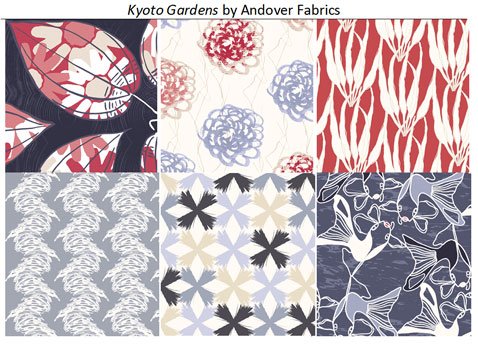 Here are two growth charts from Fabri-Quilt, with some coordinating fabrics.




Meadow, from Northcott, features some beautiful nature prints in subtle colors.




And here are two gorgeous additions to our Fall collections: Autumn Splendor from Clothworks and a beautiful panel and border print from Timeless Treasures.



Classes & Groups

Crazy Quilt Group, Mon, Aug 5, 10:30 a.m. - 1:30 p.m.
Sit & Sew, Thu, Aug 8, 1:00 - 5:00 p.m.
Women of Courage BOM, Sat, Aug 10, 9:00 -10:00 a.m.
Imperial Blooms BOM, Sat, Aug 10, 10:00 a.m. - 1:00 p.m.
Women of Courage BOM, Tue, Aug 13, 9:00 -10:00 a.m.
Imperial Blooms BOM, Tue, Aug 13, 10:00 a.m. - 1:00 p.m.
Provence & Beyond BOM, Thu, Aug 15, 6:00 - 7:00 p.m.
Blankets for Preemies, Fri, Aug 16, 11:00 a.m. - 3:00 p.m.
Gardener's Alphabet BOM, Mon, Aug 19, 9:00 a.m. - noon.
Leanne's House BOM, Mon, Aug 26, 9:00 a.m. - noon
-OR- Tue, Aug 27, 1:00 - 4:00 p.m.
Hand Piecing, Tue, Aug 27, 9:00 - 11:00 a.m.
American Girl Doll Sit & Sew, Wed, Aug 28, 1:00 - 4:00 p.m.

Please see our website for descriptions/pictures of the above classes and all of our other classes and groups: http://www.thistledewquiltshoppe.com/classes.htm
Remember to come in the week before or after your birthday
to get 20% off one purchase!
Also, if you buy the end of the bolt, you get 10% off that fabric! (Every day!)
Thank you for being one of our wonderful customers!
Phyllis, Sandy, Sheila, Susan Toni, Vicki, Donna,
Janet, Judy, Kristanna, Natalie, Pat, and Patty