May 24, 2013----------Vol. 5, No. 15

Announcements & Special Events

We will be closed this Sunday and Monday,
May 26 & 27, for the Memorial Day Holiday.
(The second session of the Beginning Crazy Quilting Class will take place on Sunday, May 27, as planned.)

I attended Quilt Market in Portland last week. There were so many vendors with beautiful booths and gorgeous fabrics and exciting products. Solids and bright, contemporary fabrics are still hot, but more traditional fabrics were also in abundance. And of course, batiks were everywhere. Handwork and wools also continue to be more and more popular. I'll give you more details in the weeks ahead. (Due to technical difficulties, I can't post pictures of Market now, but I'll try to have some next week)

Quilt shows coming up in June:

Flying Needles Quilters Guild 2013 Quilt Show is June 1 and 2 at the Yolo County Fairgrounds in Woodland. Click here for more information: www.flyingneedlesguild.com

Moonlight Quilters of Sonoma County presents Wine Country Quilts on June 1 and 2 at the Santa Rosa Veterans Memorial Building in Santa Rosa. For more information, click here: www.mqsc.org


New Fabrics and More

Even though I was gone, the fabrics kept coming in. We're starting to receive fall fabrics, and here are collections from Robert Kaufman and Windham.

And if you're really ready to make quilts for the fall, here is a wonderful collection of flannels, also from Robert Kaufman.
But if you want to quilt for the current climate, here are a beautiful floral line and a fun kids collection: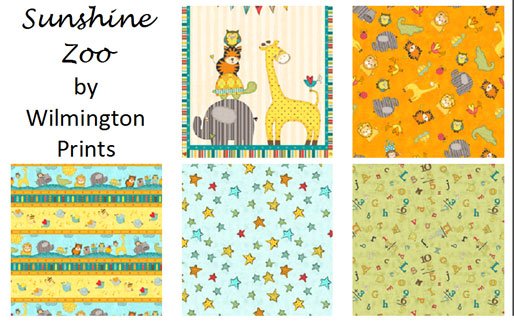 And if you want something completely different, we have Creatures of the Wild from Robert Kaufman, absolutely amazing prints you have to see in person to really appreciate.

We also have another kids collection--Animal Alphabet from Northcott, with small panels for each letter. This line can be made into a quick, adorable quilt or a book.

And from Fabri-Quilt, we have French Connection, a line featuring roosters (what else!), that also includes a lovely apron panel in a canvas fabric.
And remember, we have lots of sale fabrics at 50% off, and all 'old generation' Bali Pops are still 20% off!

Classes & Groups

American Girl Doll Sit & Sew, Wed, May 29,1:00 - 4:00 p.m.
Leanne's House BOM, There will be no meetings in May.
Hand Piecing. There is no meeting in May.


| | |
| --- | --- |
| Annie, Heidi & Victoria Visit Japan -- Part II. Mini quilt---'Cherry Blossom Festival in Kyoto', Rami Kim, Fri, May 31, 10:00 a.m. - 3:00 p.m., $48, supply list. To capture moments in Japan, Annie, Heidi and Victoria took some photos, especially during Cherry Blossom Festival in Kyoto. When they came back home, the three sisters designed this mini quilt for wonderful memories. Rami will show you how to make 'felt-like' cotton motifs for appliques in the quilt. | |
| | |
| --- | --- |
| | Beginning Machine Quilting, Dana Lahargoue, $40 for series, supply list. In the first session, you'll learn machine set up and basic shapes and backgrounds and will have lots of time in class to practice. In the second session, you'll take your new found skills and put them to work on a continuous line design which you can use as a small wall hanging or pillow. This class is the perfect opportunity to learn from a wonderful instructor. Dana is an award winning machine quilter with many years of machine quilting and teaching experience. Thursday, June 6 & June 13, 5:30 - 8:30 p.m. |
| | |
| --- | --- |
| | My Favorite Bag, Martha Kunkel, Sat, June 22, 10:00 a.m. - 4:00 p.m., $40, supply list. Make a large or small version using the Katie Cupcake pattern. This very stylish and practical bag features grommets, a contrasting tie, and many, many pockets. |

Please see our website for descriptions/pictures of the above classes and all of our other classes and groups: http://www.thistledewquiltshoppe.com/classes.htm
Remember to come in the week before or after your birthday
to get 20% off one purchase!
Also, if you buy the end of the bolt, you get 10% off that fabric! (Every day!)
Thank you for being one of our wonderful customers!
Phyllis, Toni, Vicki, Donna, Janet, Judy, Kristanna,
Natalie, Pat, Patty, Sandy, Sheila, and Susan